The Da Vinci Code - Dan Brown
A Novel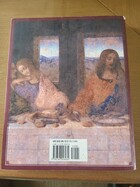 KORTE INHOUD
The Da Vinci Code has intrigued and thrilled millions of readers around the world. Now all the artwork, symbols, architecture, and historic locations—over 160 images—are beautifully compiled in this full-color collector's edition.

A mind-bending code hidden in the works of Leonardo da Vinci. A desperate race through the cathedrals and castles of Europe. An astonishing truth concealed for centuries… unveiled at last.

While in Paris on business, Harvard symbologist Robert Langdon receives an urgent late-night phone call. The elderly curator of the Louvre has been murdered inside the museum, a baffling cipher found near the body. As Langdon and a gifted French cryptologist, Sophie Neveu, sort through the bizarre riddles, they are stunned to discover a trail of clues hidden in the works of Da Vinci–clues visible for all to see and yet ingeniously disguised by the painter.

The stakes are raised when Langdon uncovers a startling link: the late curator was involved in the Priory of Sion—an actual secret society whose m...
2004
Taal: Engels
zie alle details...
1x bekroningen & co
Beste fictie
Categorie
Details
2004
Uitgever: Broadway Books
467 paginas
Taal: Engels
ISBN-10: 076792603X
ISBN-13: 9780767926034
Koop dit boek tweedehands
bij volgende verkopers
3 foto's
Categorie
Details
2004
Uitgever: Broadway Books
467 paginas
Taal: Engels
ISBN-10: 076792603X
ISBN-13: 9780767926034
sleutelwoorden